Seeing these a month ago got me into a I-want-a-ceramic-stool phase.
via VISION DECOR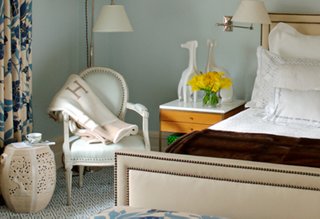 via LIVE.LOVE.HOME
via ELLE DECOR
via HOUSE BEAUTIFUL
via HOUSE BEAUTIFUL
via JUST BELLA
via PAGODA ROAD
via DECOR PAD
via APARTMENT THERAPY
That started my hunt for ceramic stools. I first looked into the home stores, found them, but when I saw the price tag, I realized buying it for Php 4,000.00 + bucks was way beyond my budget. Luckily, after chancing upon a blog
post
about how one could get it at less than a thousand pesos in UNIWIDE WAREHOUSE CLUB Coastal Mall, I right away asked dear hubby to drive me to the place.
We had a chance to go there only last weekend. The building is almost in a run-down state but it's still a treasure trove of home finds, similar to what are being sold at the Dapitan area.
I really wanted the white stools but since they were out of stock, I just settled for 2 yellow ones, which cost only Php 590.00 a piece. Compared to the PHP 4,000.00/pc being sold at the home stores, I definitely had huge savings! ;)
I have yet to spruce-up our balcony area. Still needing the other accessories like outdoor lamps & new plants. I will let you in on it once I'm done with my balcony make-over.

Coming soon... ;)